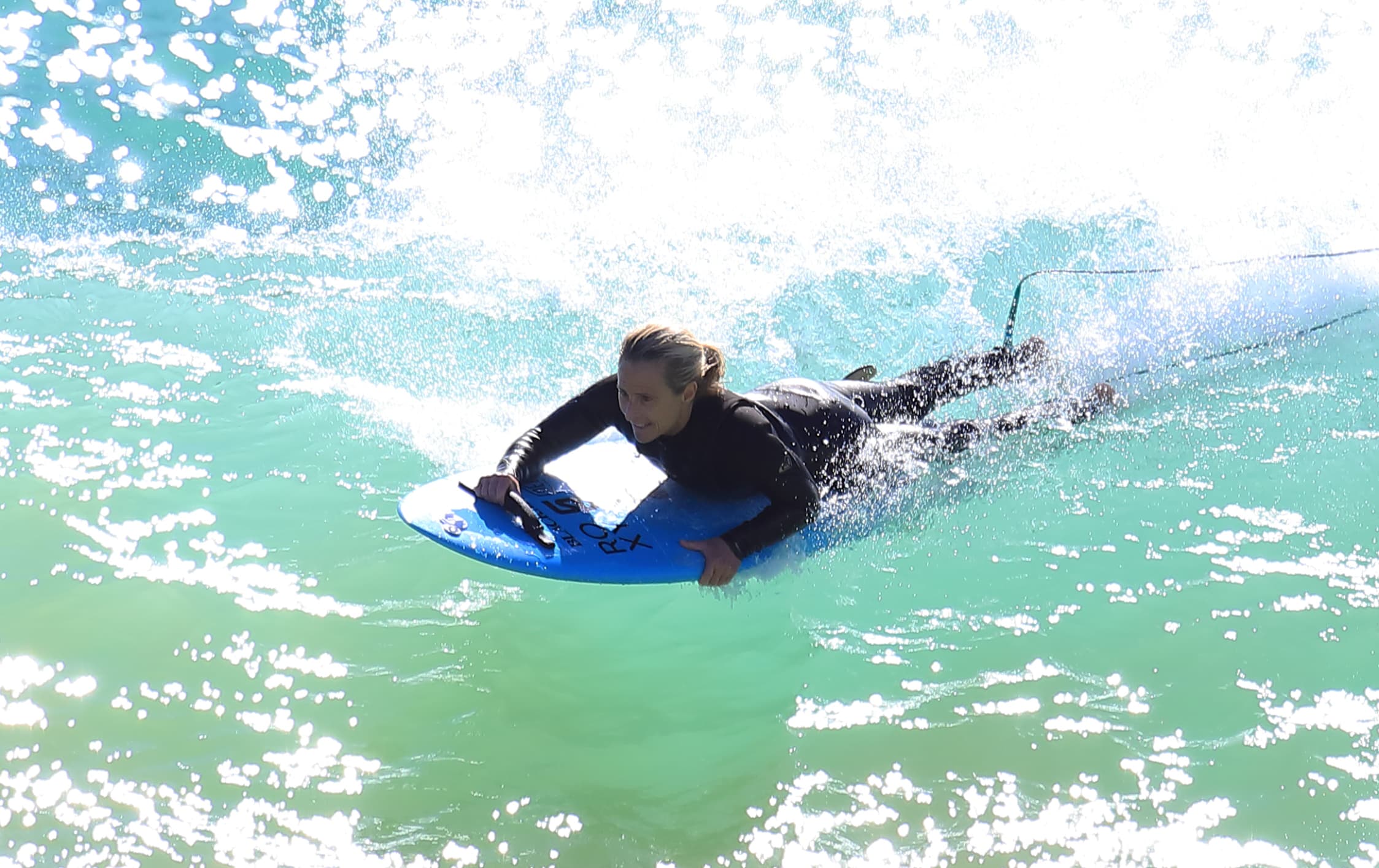 26 May 2022
SAM BLOOM JOINS SURF LAKES' AMBASSADOR TEAM
Surf Lakes thrilled to have Sam Bloom as an ambassador
---
Gold Coast, QLD – Surf Lakes is proud to officially announce Sam Bloom as the newest member of the Surf Lakes' ambassador team.
Sam is a 2x world para surfing champion, bestselling author, keynote speaker, wife, and mother of three, who brings a wealth of talent and inspiration to the team.
Sam's story is one of incredible trials and triumphs that eventually inspired the 2017 ABIA award-winning book Penguin Bloom. The international best-selling story was also adapted into the 2020 #1 box office hit of the same name in which Sam is played by Hollywood star Naomi Watts.
Surf Lakes CEO Aaron Trevis said, "we're thrilled to have Sam and her family as part of the team. We love her fighting spirit and her passion to share the stoke of surfing with the world."
Sam also recently won Female Para Surfer of the Year at the 2022 Australian Surfing Awards.
Regarding the partnership, Sam said, "I'm stoked to be an ambassador for Surf Lakes, who have created the opportunity for surfers of all abilities to ride perfect waves in a unique environment. I look forward to surfing with the team and being part of the growing international Surf Lakes family."
The Surf Lakes team would like to extend a warm welcome to Sam Bloom and her family, and we thank her for joining our journey.
Learn more about Sam and her work here.
Facebook: @sambloomaustralia Instagram: @samjbloom
ABOUT SURF LAKES HOLDINGS LTD
Surf Lakes Holdings Ltd is a public company which provides a technologically advanced wave-generating device and bathymetric reef designs to wave park project developers around the world through its wholly-owned subsidiary SLI. Since being established in July 2016 it has grown to become a holistic solution provider for world-leading surf park destinations.
SLI is developing a portfolio of high-calibre licensee partners across the world, implementing our technology into various unique destination designs. Our team and world-recognized design partners have extensive experience in every related field and offer solutions at all levels from initial design through to construction, ongoing operations, and maintenance. SLI's strategy is developing surfing communities, enhancing lifestyles, bringing economic benefit and employment to regions.