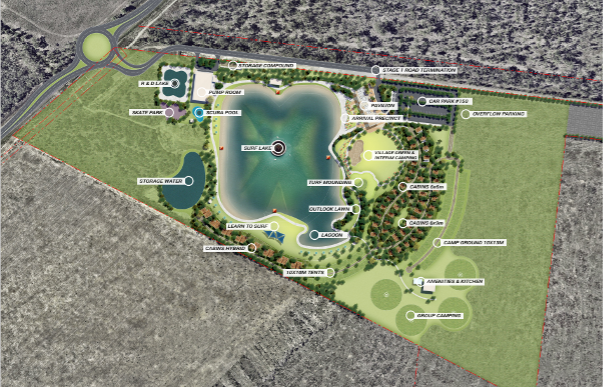 25 Apr 2021
YEPPOON SITE UPGRADE
A sneak peek at what the Yeppoon facility could grow into.
---
Right throughout January, February and March, the team have been beavering away, completing the application to gain approvals for the commercial upgrade to the Yeppoon site.
A large team, from Surf Lakes and partners APP, Place Design, Liquid Blue and more, have been busy designing the intended facility which will also include numerous attractions around the wave park centre piece.
We are delighted to announce that all appropriate documents related to the application have been lodged! It is anticipated that the approval process will take some months to complete. Next steps will be centered upon funding followed by construction scheduling pending approval.
"We see this as a fantastic opportunity for the Capricorn Coast and we can't wait to see a multitude of smiling faces enjoying surfing our waves," said Founder and CEO, Aaron Trevis, who is also a Yeppoon local. "Aside from the obvious physical and mental wellness positives of surfing, we are genuine about delivering a true community focused asset that will offer incredible value to the broader Rockhampton and Capricorn Coast regions and their people".
The development/construction will take place over numerous stages but initially it is intended that the facility provide a camping/glamping experience with vast concert/event lawns, pop up food and beverage services and low cost cabins. Over time, the facility may evolve to cater for an eco-friendly hotel and more permanent/elaborate food and beverage focused surrounds.
See the article from The Morning Bulletin post on 01.04.2021 here.